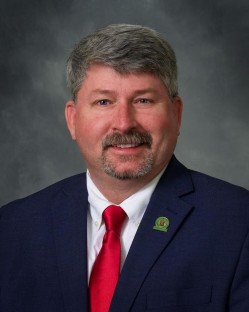 Clark Harrell
---
Address / Location:
Crisp County Government Center 210 S 7th Street, Suite 303
Cordele, GA 31015
About:
Clark Harrell is a thirty-year veteran of Public Safety. In December of 2019, he joined Crisp County as County Administrator, after twenty-seven and a half years of service to Mitchell County citizens.
Harrell began his career as a Police Officer in Pelham, Georgia. In 1992 he transferred to the position of Deputy Sheriff at the Mitchell County Sheriff's Office. In 1993 he was promoted to Investigator. In 2000, the Board of Commissioners requested that Clark take over the management of the county's E9-1-1 Center. While Clark was the Director of Mitchell County's E-911 Center, he served as Mitchell County's Emergency Management Agency, Deputy Director. During that time, he was appointed by then-Governor Sonny Perdue to the State of Georgia's 9-1-1 Advisory Board. In 2012 the Board of Commissioners appointed Clark as interim County Administrator, and the following February of 2013, he was named Mitchell County's Administrator. During his time as County Administrator, he also served as Mitchell County's Emergency Management Agency, Director.
Clark is a Certified County Official by the Carl Vinson Institute of Government and ACCG, E9-1-1 Consultant, Arbitrator with the State Bar of Georgia, and Master Mason with Pelham Lodge #312,
Clark and his wife Michelle reside in Pinehurst, Dooly County. They have three children Jake, Lauren, and Trey. Clark and his wife are both members of Liberty Baptist Church in Pinehurst, Georgia, where he also serves as a deacon.